Rabbinic Outcry against Proposed Division of Jerusalem
October 18, 2007
MK Rabbi Porush
The Rabbinic Congress for Peace held a press conference this week publicly denouncing the intentions of the Israeli government to divide the capital city of Jerusalem. Basing there conclusions on the Torah, the Rabbis emphatically stated that Jerusalem is the eternal capital of the Jewish people and should not be surrendered under any circumstances.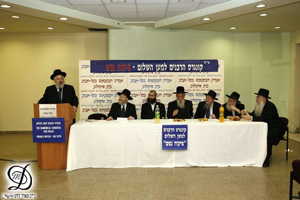 Rabbi Drukman
The Rabbinic Congress for Peace (RCP) represents 1,200 Jewish leaders from around the world. A delegation of seven prominent Rabbis, including one Knesset member, addressed the media. Rabbi David Drukman began the meeting by saying, "We convened here today to vigorously protest the government's drafting of a principles document that will surrender parts of Jerusalem to the Palestinians."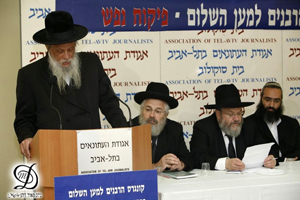 Rabbi Horowitz
American Rabbi Meir Horowitz stated that he was "dismayed" that his government would take an active role in imposing on the Jewish nation a dictatorship of terrorists to share their capital city. Rabbi Horowitz publicly plead with U.S. Secretary of State, Condaleeza Rice, saying, "convey to the President that no one can expect the Jewish people to forgo the central theme and focus of their religion (Jerusalem)."
Former Rabbi of the Gush Katif community of Kfar Darom said that he dreaded what would happen if forced evacuations were carried out on hundreds of thousands of Jerusalem residents. The Palestinian government is demanding Israel withdraw to the 1967 borders in Jerusalem. If the Israeli government were to accommodate this request approximately 200,000 Jewish residents of Jerusalem would be displaced from their homes and neighborhoods. Some of the 2,000 Gush Katif evacuees are currently still living in temporary housing almost two years after the Israeli unilateral withdrawal from the Gaza strip. What does the Israeli government plan to do with 100 times as many evacuees from Jerusalem?
Rabbi Lewin
Another concern voiced by the Rabbinic Congress is that the terrorist regime would use the newly acquired territory for terrorist activity. Rabbi Avrohom Lewin, General Secretary of the RCP, indicated that the Palestinian people in the Gaza strip are not using their newly acquired territory to build schools or Mosques to educate their children, or expanding their farmland to supply their own needs, but are using the land to lob rockets into Israeli neighborhoods as far north as Ashdod. He suggested that the same activity would emanate from Jerusalem and threaten the very existence of the state of Israel. When asked how much of Israel's land the Rabbinic Congress for Peace would allow to the Palestinians for a new nation, he replied "Not one Inch!"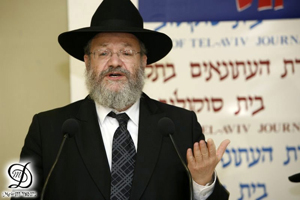 Rabbi Gerlitzky
Chairman of the RCP, Rabbi Joseph Gerlitzky, concluded the meeting by saying, "it is our obligation as rabbis to sound the alarm and reiterate again and again the Jewish Code of Law that it is forbidden to give up even one inch of the land because it will lead to bloodshed and danger to life."
(Photos are courtesy of the Rabbinic Congress for Peace General Secretary, Rabbi Avrohom Lewin).